Press Release
Sweet Cures launches new probiotic range.
By Dave Smith
Feb 23, 2022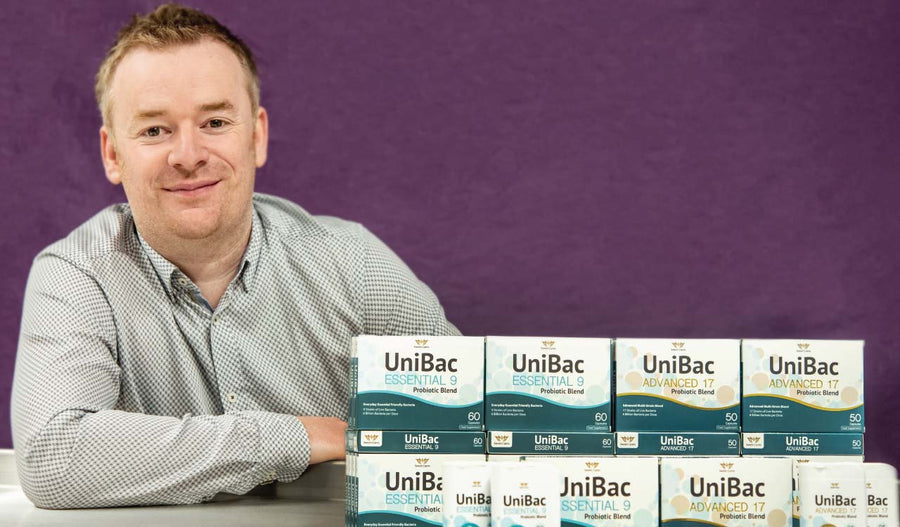 World-leading natural health food supplement manufacturer and retailer Sweet Cures has launched an all-new range of probiotics including up to 17 live strains of bacteria backed by clinical studies.
Building on the success of Sweet Cures Probiotic Blend Capsules and in collaboration with market leader Danisco, the new UniBac range contains a unique blend of friendly gut bacteria that are clinically proven to make their way down to the gut and support a healthy immune system.
The first two products launching from the new range are the UniBac Advanced 17 Probiotic Blend, one of the most comprehensive probiotic blends available, and the Essential 9 Probiotic Bend, a blend of nine strains of friendly bacteria designed for everyday use to support a healthy gut.
Advanced 17 Probiotic Blend includes:
Lactobacillus casei - well researched relating to immunity, it helps maintain presence of other beneficial bacteria during infection and reduction of pathogens, particularly in stressed individuals.
Lactobacillus helveticus - this can account for up to 10% of bacteria in the gut, consequentially having a strong influence on digestion, mental health, immunity and infection rates.
Bifidobacterium longum ssp longum - this has a long history of human use, proven to be effective in supporting the gastrointestinal and immune system in fighting against infectious diseases.
Bifidobacterium lactis - supports normal function of the digestive system, including bowel function, and has benefits extending to the immune system and skin health.
Both UniBac Probiotic Blends are available to order online from March 2021, with two further UniBac products due to launch later this year.
Dave Smith, Design and Marketing Director at Sweet Cures, said: "We're delighted to launch our new UniBac probiotic range.
"All strains of bacteria used in our UniBac products are backed by clinical studies which prove their effectiveness. "This is important to us and our customers. Sweet Cures is a company that prides itself in providing the purest natural health food supplements available, made at the right dosage with no unwanted additives."
BANT registered Nutritionist Serena Coan, said: "Prioritising our personal health and wellbeing is so important right now, and a healthy gut is key to almost all aspects of this, including the gastrointestinal tract, immune system, urogenital tract and even your mental health.
"An attractive aspect of the UniBac range is the variety of live bacteria in the products, akin to the natural diversity of our gut microbiome, making it ideal for daily support.
"The abundance of Lactobacillus and Bifidobacterium strains are promising for supporting mental health. Recent research into the use of "psychobiotics" (probiotics that influence the central nervous system and gut-brain axis) has shown the power of specific probiotic strains on management of inflammation and neurotransmitter production involved in health conditions."
Sweet Cures specialises in researching, developing and creating natural health supplements using healthy and essential sugars, with products including Waterfall D-Mannose®, High Energy D-Ribose™, Wild Oregano Oil™ and Xylotene®.
Share This